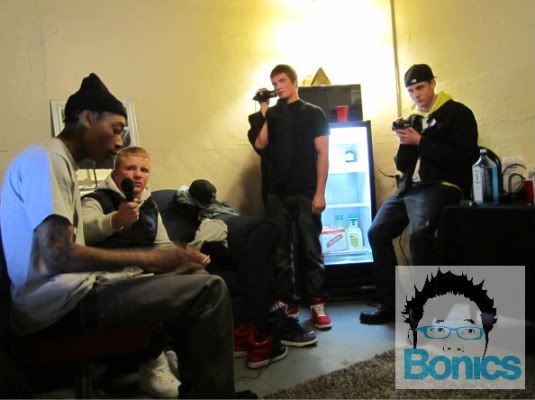 Photo credit: DJ Bonics
The Taylor Gang general gathered his troops and infiltrated Michigan last weekend — performing three sold out shows in two short days! Saturday night, I sat down with Wiz Khalifa for an interview between his first two back-to-back shows at the Royal Oak Music Theatre, just outside Detroit. At the time, he was ironically enjoying his newfound mainstream success while underground — in a secluded cement-walled area of the venue's basement, occupied only by those he shared the stage with merely an hour before. Following a brief escort from his Tour Manager, Will, I had now reached a point envied by 1,700 screaming fans in attendance for the earlier show. I, too, enjoyed the prior performance as a patron, but now—more than ever—was time for business and proper display of professionalism.
Upon entering the room, my ears perked in response to Nicki Minaj's Pink Friday collaboaration with Kanye West pouring through the speakers of Wiz Khalifa's personal laptop — "I fly! I fly high! I'm blazin'!" Wiz was doing just that while taking flight with a paper plane, yet remaining seated in the comfort of his rolling computer chair. After a round of introductions, I sat down and began to interview arguably the most buzzed about rapper in 2011. See how it all unfolded below . . .
You're buckled into the front cart of a roller coaster. All other seats have been packed into and the wait is over. You begin to slowly ascend high into the sky and your heart starts to race — pumping rapidly as if in attempt to break out of your torso. The roller coaster reaches its peak and you're now overlooking the entire theme park. Your chest becomes tense and you gasp for air in anticipation of the inevitable descent.
All of a sudden, the choir-like chorus of Kanye's "Dark Fantasy"—"CAN WE GET MUCH HIGHER?"—virtually drowned out by the sound of Taylors screaming with excitement begins blasting through the speakers as the pungent aroma of marijuana perks your sense of smell and exhaled smoke consumes the air around you. Goosebumps completly occupy your skin in a matter of seconds.
Lights flash as Wiz Khalifa, accompanied by prominent Taylor Gang members—Tour Manager and longtime friend, Gangsta Will; upcoming rapper, Chevy Woods; and Light aka Loody Boy—emerges from the shadows for an entrance smoother than a baby's bottom. The Pittsburgh representer strolls across the stage with a smile that could span from coast to coast before eventually stopping in his tracks to nod his braided head in satisfaction of his warm welcome from the sold-out crowd. His professional boxer-like entrance music comes to an end, which segues into his contagious chuckle compensating for its absence.
It's at this very moment when you begin to realize that this is it — this is what you've been waiting days, weeks, and perhaps months for. Rather than be confined to the limitations of a stationary microphone stand, Wiz Khalifa and those he's joined by make complete use of each and every square inch of the stage. Wiz moves and grooves across the platform with the gracefulness of an Olympic skater. He glides, spins, jumps, and allows his lanky 6'4″ frame to be visibly overtaken by the feel-good music he's performing. Meanwhile, you can't help but follow suit.
Wiz marches forward with his battle against blunts by tossing packs of Wiz Khalifa brand rolling papers into the crowd. At times, he involuntarily acts as a landing strip for fan-rolled paper planes. Khalifa caters to OG Taylors as well as new members of the Taylor Gang by balancing performances of some of his earliest mixtape classics with a much anticipated presentation of his current single, "Black And Yellow" — all along serving up a healthy dose of Kush and Orange Juice. Closing the show, he places the icing on the cake and boards "This Plane" — one that will surely be missed.